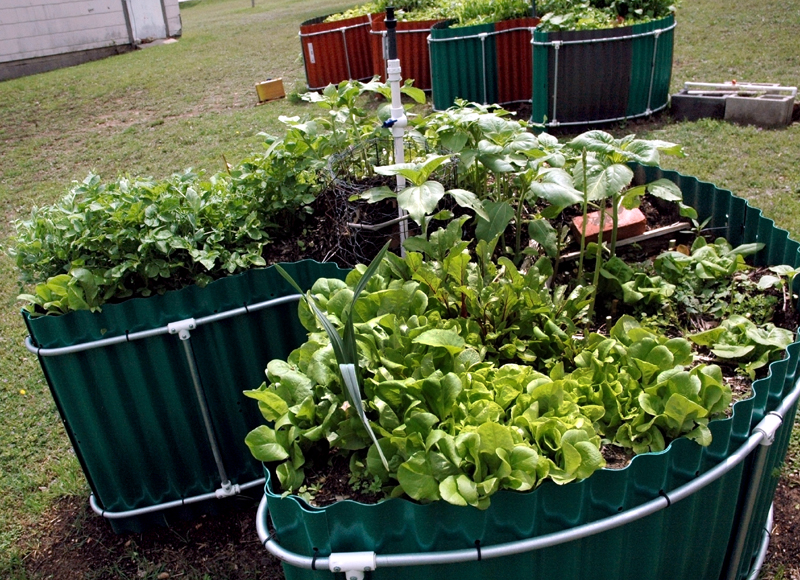 It's been a little over a month since I planted this year's new batch of keyhole gardens, including about 40 or 50 different plant varieties. Since the weather was nice and planting took place a little earlier than usual, we worried a lot about late freezes, and, of course, since this is Texas we had some.
As noted previously, our main experiment this season is with a keyhole garden I have named The Holy Cow, since it is two colors and has holes cut in one side, looking somewhat like a spotted cow. The purpose of the garden is to try to raise some crops in those holes and let them ride on the ground as they grow. So far, we have pumpkins, watermelons, and strawberries peeking through. It will be interesting to see how they do long-term, but right now they look okay.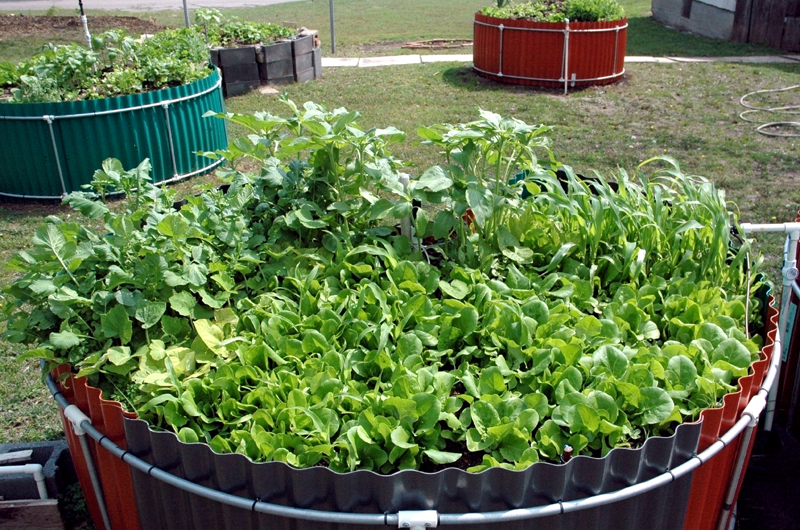 My lushest garden is the one called Dipzoid, a new garden this year. It got its name because keyholes utilize circles and triangles (zoid) and this one has three colors (like dipped in colors). I coined the word. You can't Google it. In a way it is experimental, too, because I planted a bunch of crops in it that I haven't tried before (like popcorn, peanuts, an orange seed, and apple seed, and the list goes on).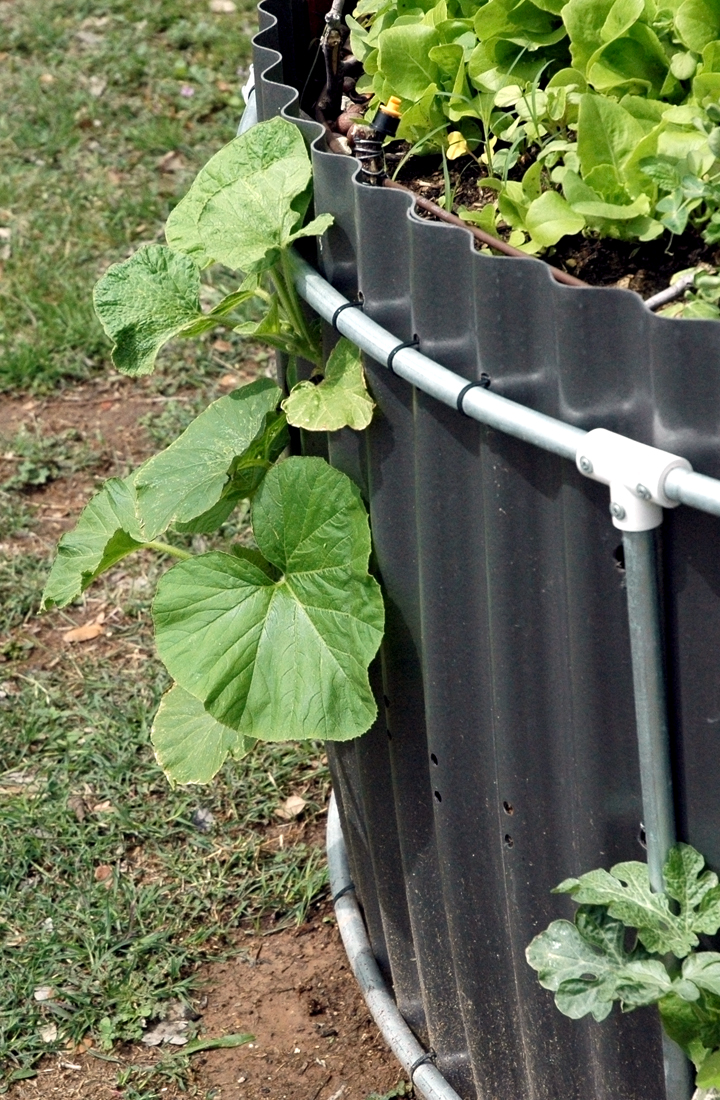 On these two gardens (Holy Cow and Dipzoid) I put in more cardboard than usual and thought I had the level were I wanted it after watering it in and waiting a couple of days, but after I planted it, the level continued to drop more than I had expected, so they are sunk in some. However, the plants are doing very well, so it probably does not matter that much.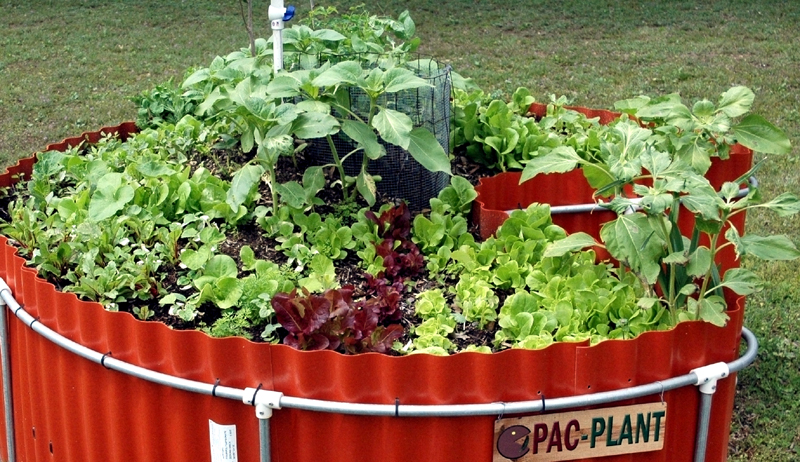 Amazingly, in the garden called Pac-Plant (a red garden), there were two trees growing from last year near the middle. I had tried to plant some bois d'arc trees in the yard from some horse-apple seeds awhile back with no luck and was wondering if I had put some in that garden. If so, I was going to let it grow. My spouse asked me the other day, "Why did you plant fruitless mulberry trees in there?" I said I didn't. She said, "Must have been bird droppings then."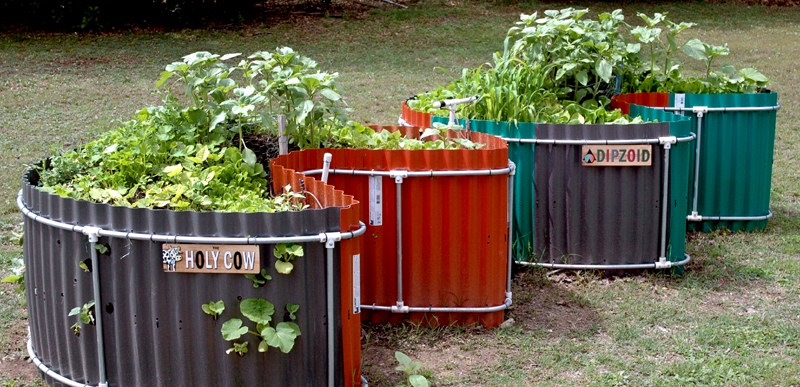 Anyway, they are still  there but will probably be cut down soon. Interestingly, when we had the freezes the one on the north side had all its leaves dry up and turn brown almost overnight and the tree about four inches south of it retained all its green leaves, not harmed in the least. Maybe one tree blocked the frost and cold air for the other one.
We are still harvesting a lot of asparagus in the garden named Belle (a green one) and are getting ready to harvest lettuce and spinach and similar plants very soon. The green beans are looking pretty good as are, of course, the sunflowers, plus a ton of other plants.
Some of the images of the gardens are on this page. Just click on them to see them bigger.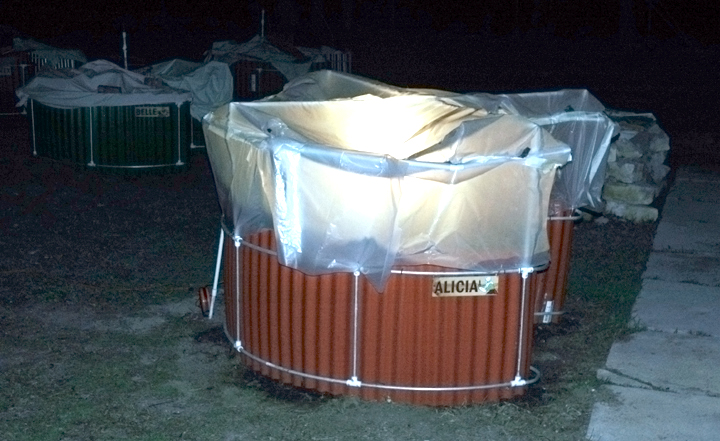 Helping me plant this year were Girl Scouts (see previous report below). One came by the other day and was pointing out "her" plants (with a big smile on her face). "I planted that one, and that one, and that one, and that one……."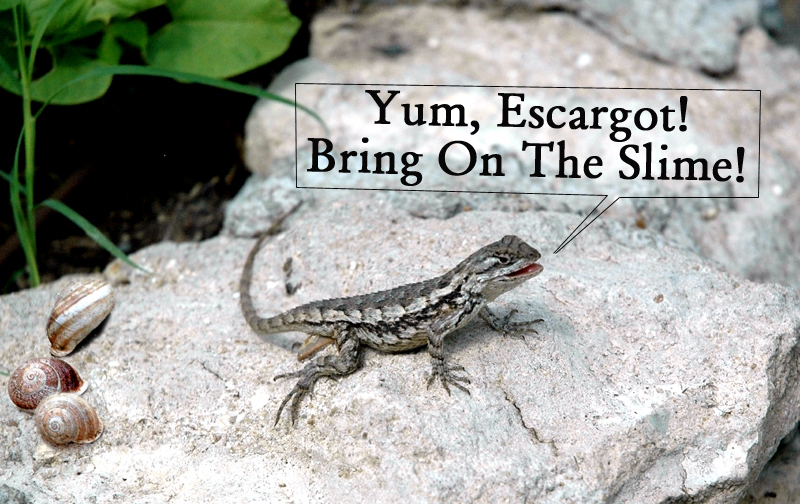 "Bubba," my first keyhole garden that was made of rocks and cinder blocks has a new sentinel to watch over it, a lizard who posed for me (bottom photo). Since we are kind of like partners in this thing, I named him Noel (my name spelled backwards). When we first met, he caused me to jump a little. I had no idea he was around until he darted in front of me. Telepathically, he told me he likes snails. Telepathically, I told him to help himself.
On warm days we've had a few bees and wasps, not to mention some elegant butterflies. It looks like we are going to have a great season.
During a year, we do several rounds of planting and harvesting, pulling up crops that have ceased to make and replanting something else to match the weather, so there is plenty of time to start your keyhole adventure.