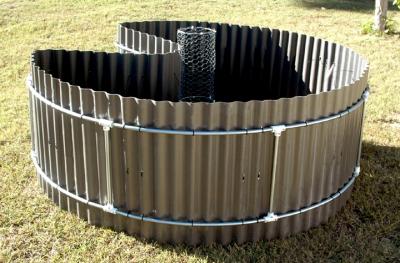 Original Keyhole Garden Kit - Castle Gray
$289.00
$249.00 On Sale!
You Save

249.00
Original Keyhole Garden Kit - Castle Gray More Details
CONTENTS:
12 panels for sides,
12 large metal curves for rails,
8 medium and small metal curves for wedge,
10 T-posts,
125 polyester ties,
40 tap screws,
3/32-inch drill bit,
3 wire rings for cage,
1 roll wire mesh for cage,
instructions and planting worksheet

MAJOR COMPONENTS CONSIST OF:

METAL FRAME -- The metal frame is made of EMT conduit, specifically bent into configurations that provide an upper and lower rail separated by vertical posts. The pieces are connected with specially designed PVC tees (provided) which are firmed up with screws (provided). A power screwdriver is needed to drill in these screws through the PVC and filler and into the metal conduit. A rubber mallet, padded hammer, or board is also needed to tap some of the curved pieces into place. In our experiments, it normally took about 20-30 minutes to piece together. This part of the unit can be built indoors and then rolled or carried to the garden location. The frame measures approximately six feet in diameter with a wedge (part of the keyhole) indented inward. Suggested height is just under 29-inches in height when panels are added.
PANELS -- There are 12 ridged panels that measure in height 28.5 inches (approx.). Holes in the siding are pre-drilled at factory for use in attaching nylon ties to the metal frame or to adjoining siding panels. The panels slightly overlap as they are assembled, with the ridges running vertically. With two people connecting and securing the panels, it normally takes us about 35 minutes to put together. With one person, it would take slightly longer.
INTERIOR CAGE -- Inside the keyhole garden sits a vertical 1 ft. wide (approx.) wire mesh cage that extends several inches above the height of the garden.
TOOLS NEEDED -- Power driver (required), padded mallet or piece of wood (might be needed), level (optional) used when trying to place the garden on level ground, leather or cloth gloves (optional) used while working on the mesh cage, shears or scissors (optional) for cutting the left-over strands of the polyester ties, and a small drill bit (optional) used in helping to screw the curved pieces if needed (a bit is included).
Powered by ShopSite Shopping Cart Software