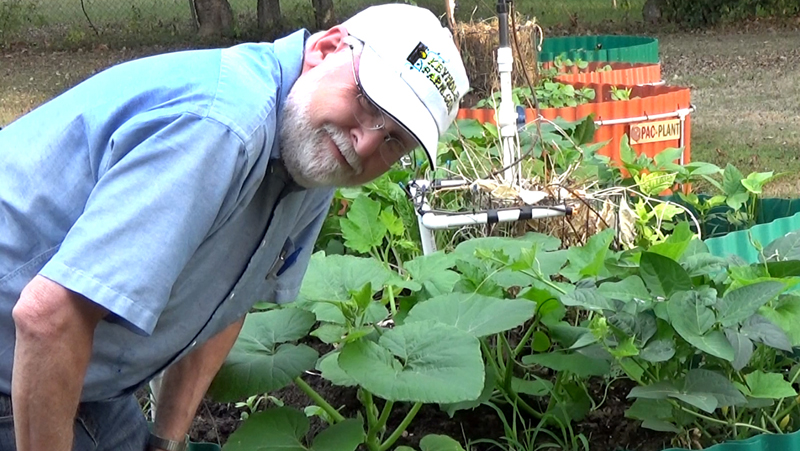 Sorry for the delay in updating our site, the last one being in July, but I have been busy working on several projects (some not related to keyhole gardening) which has thrown me behind. Right now we are harvesting okra and some black-eyed peas primarily and a few weeks ago pulled up several crops that had finished their season and replanted in those spaces.
I left a few tomato plants in the ground that had ceased their very abundant manufacture of tomatoes in the spring and summer, just to see what would happen, and now they are sprouting tomatoes again, perhaps since the weather has finally dipped below 100 degrees.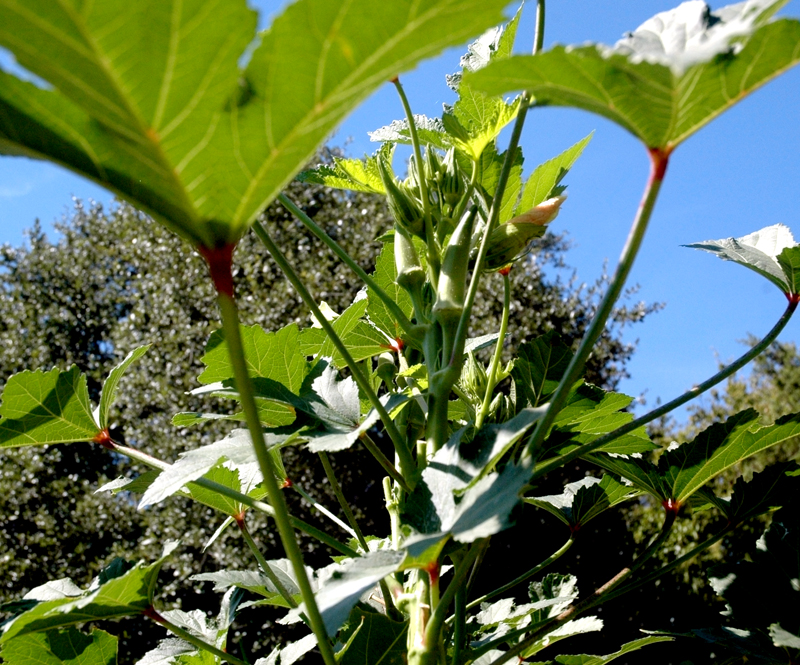 The cooler weather is very nice and I think my plants in general appreciate it, for they are looking very lush.
Among the crops I planted this go-round are another batch of black-eyes, some more green beans, pumpkins, squash, Swiss chard, lettuce, carrots, some herbs, and a few others, most of which are developing fast. The growth is noteworthy every day that I spend time in the gardens.
Here are some photos of what's growing right now. Just click on the image and it should enlarge on your computer.
Even with the extra-rainy May and the very dry summer, we have had great success with our gardens at the experiment station.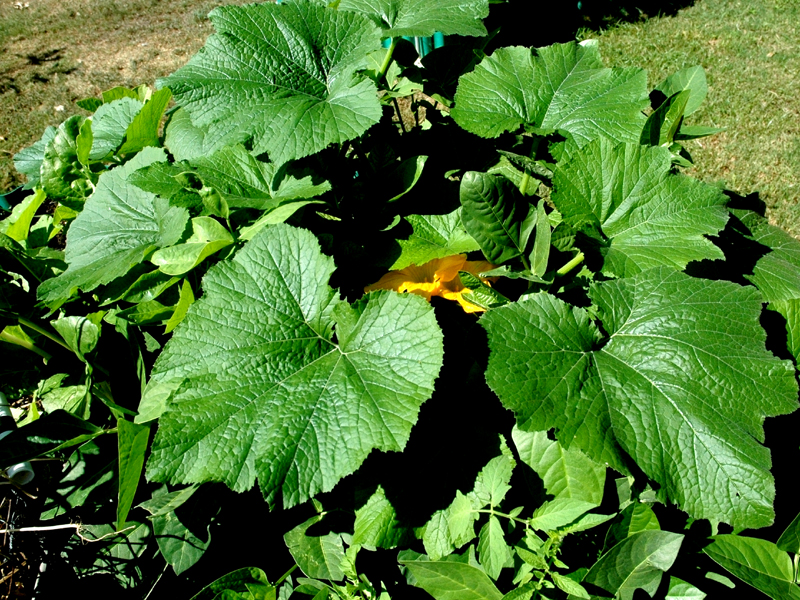 Interest in keyhole gardening is growing, as we are trying to cooperate in getting the word out of their many benefits. Recently, Dr. Deb Tolman was featured on Texas Country Reporter and RFD-TV explaining the benefits and joy of keyhole gardening, which was an excellent program. She has been a prime mover and shaker for the cause and knows the science better than anyone I know. Maybe the program will recirculate if you missed it. I have conducted several programs this past few months, as well, and will be explaining keyholes to some gardeners in San Marcos next week.
If you would like to read previous updates on the Keyhole Farm site and look at the photographs, they can be accessed by selecting them in the icons on the right of this page. They provide information and are dated as to month to get an idea of what was happening in the spring, for instance, or summer, at our experiment station.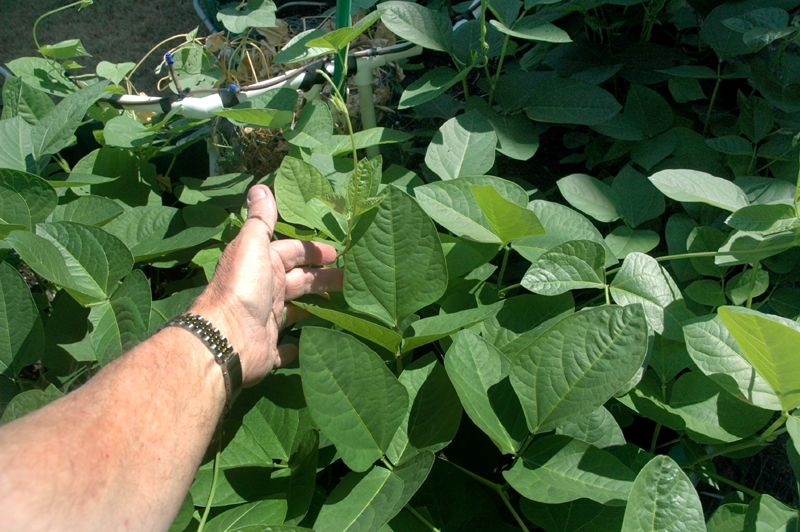 Briefly, our first keyhole garden was built several years ago, of rock and cinder blocks. We got the idea from Dr. Deb after she explained the new concept in a newspaper article. Our first garden was an unbelievably huge success and we wanted another one, or two, or three, so my brother and I (we are amateur inventors, by hobby) devised a much easier method of building the container and had friends and family who wanted us to build them one, as well. After about three years of seeing how they held up and to supply a growing demand for them, Keyhole Farm was formed, as a small business. Since that time, numerous keyhole garden kits have been bought by schools and individuals throughout the United States (and a few outside the U.S.) who, according to feedback, really like them.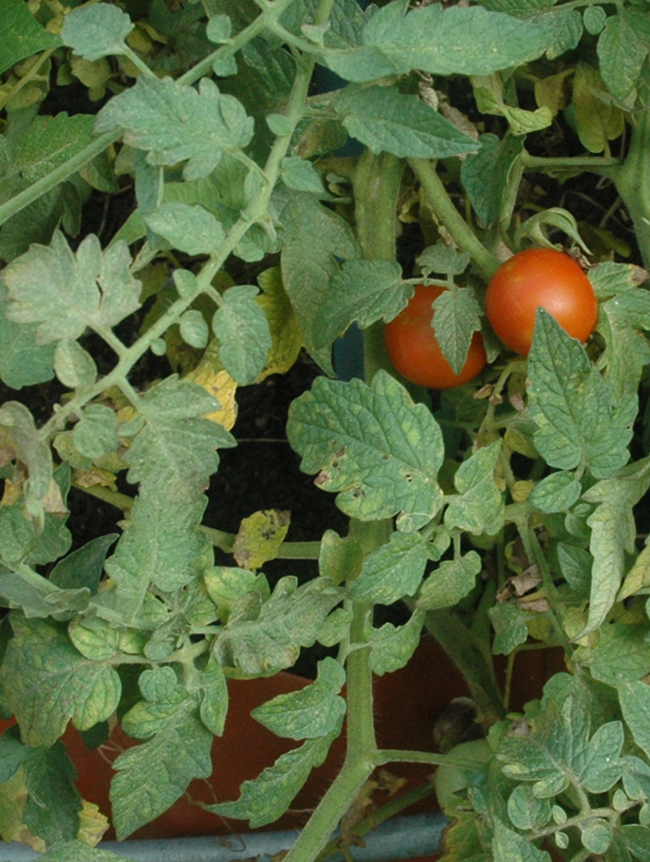 A keyhole garden is very much like the perfect gardening system, which relates to size and architecture. They are called keyhole gardens because if you look at them from above (a bird's eye view), with the wedge cut out and the internal basket in the middle, along with the circular shape of the garden itself, they resemble an old-timey keyhole, like you would find in a door. The internal basket is where green material like food scraps is placed to decompose and provide natural nutrients and moisture for the plants. The main garden consists of layers of a lot of cardboard and paper products (for carbon), leaves, twigs, sticks,compost, topsoil, and some green material (like manure or coffee grounds).
Advantages of keyholes are many. They conserve water, the backbreaking work on traditional gardening is eliminated, you control your own soil, weeding (if any) is minimal, you can plant seeds much closer together (I usually utilize about a three-inch grid format, although sometimes I scatter seeds in rows), and you can harvest at the optimal time which provides for more nutritious crops that taste better, too.
We mix crops in our gardens to help maintain balance of the soil and have had very good results with a big variety of crops, including, for instance, tomatoes, potatoes, squash, pumpkins, watermelons, cantaloupes, jalapeno peppers, bell peppers, Swiss chard, a variety of lettuces, black-eyed peas, a huge variety of beans, cucumbers, sunflowers, okra, and the list goes on.
However you build a keyhole garden, the end result is being able to raise your own crops and to learn new techniques along the way. A few of the distinct advantages of utilizing our kits is that they tend to be more ADA compliant, meaning people in wheelchairs don't have the extra eight-inches to a foot of rock to reach over to work their gardens, you are right there. The kits can also be disassembled fairly easily and moved. They are lightweight prior to being filled and, so far, our first keyhole garden made from a kit is still going strong, on its seventh year, so they are durable. It normally takes me about an hour-and-a-half to build the six-foot diameter garden from one of the kits, which, to me anyway, beats hauling in rocks and trying to stack them. Our kits are hand-tooled, made in Texas, and orders are usually shipped fairly fast. If you are interested in ordering one, there is a bar on the top of this page that can take you to that page.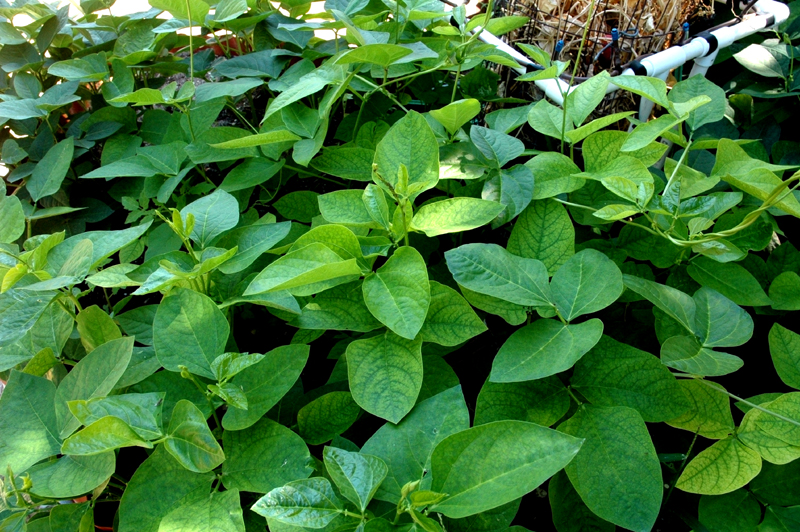 As the holidays grow near, consider that these kits might make excellent Christmas gifts for people interested in experiencing this new dimension in gardening. I formerly published newspapers where we suggested that a newspaper subscription would make a great gift since it "gives all year long" as subscribers get a new copy each week. In a way, that holds true for keyhole gardens, since crops can be raised all year long and the benefits of consuming your own crops and sharing them "keeps on giving."
Entering this new dimension in gardening can be life-changing, for the better, since it puts focus on "feeding the world," or perhaps at least the family or yourself with crops that have your personal stamp of  influence on them. You control what you eat. Each day is an adventure and a challenge. Youths especially can become part-time farmers as they enter the fascinating world of raising their own crops. What they learn will stay with them always and enrich their lives forever.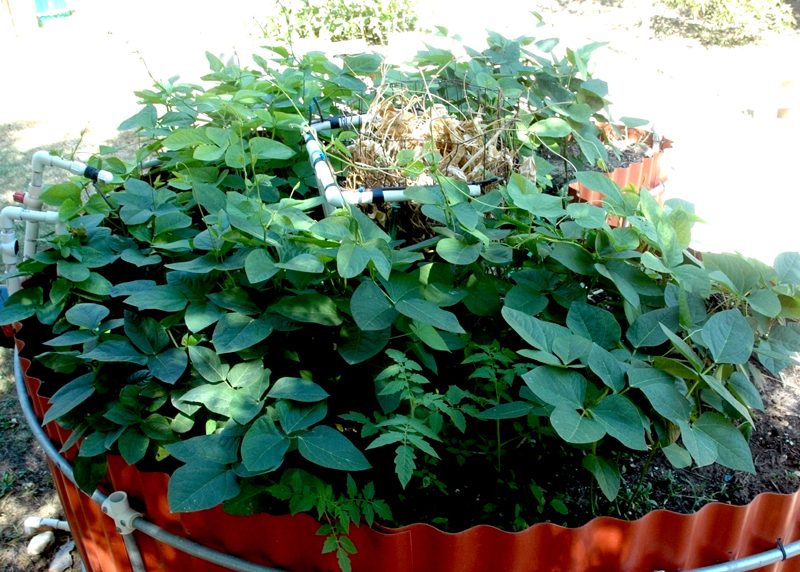 There is definite magic in seeing what you planted grow. It is an enormous confidence builder, since this experience teaches them the very basics of survival while instilling in them the constant desire to learn more. They are dealing with the "real world" with keyhole gardening, as compared, for instance, to the fake world of I-Pads and cell phones that have become so consuming of our kids' time and energies. This is one reason I am so encouraged when schools teach this type of gardening. It opens the doors to imagination, invention, and creativity, plus it is a world that many never knew existed.