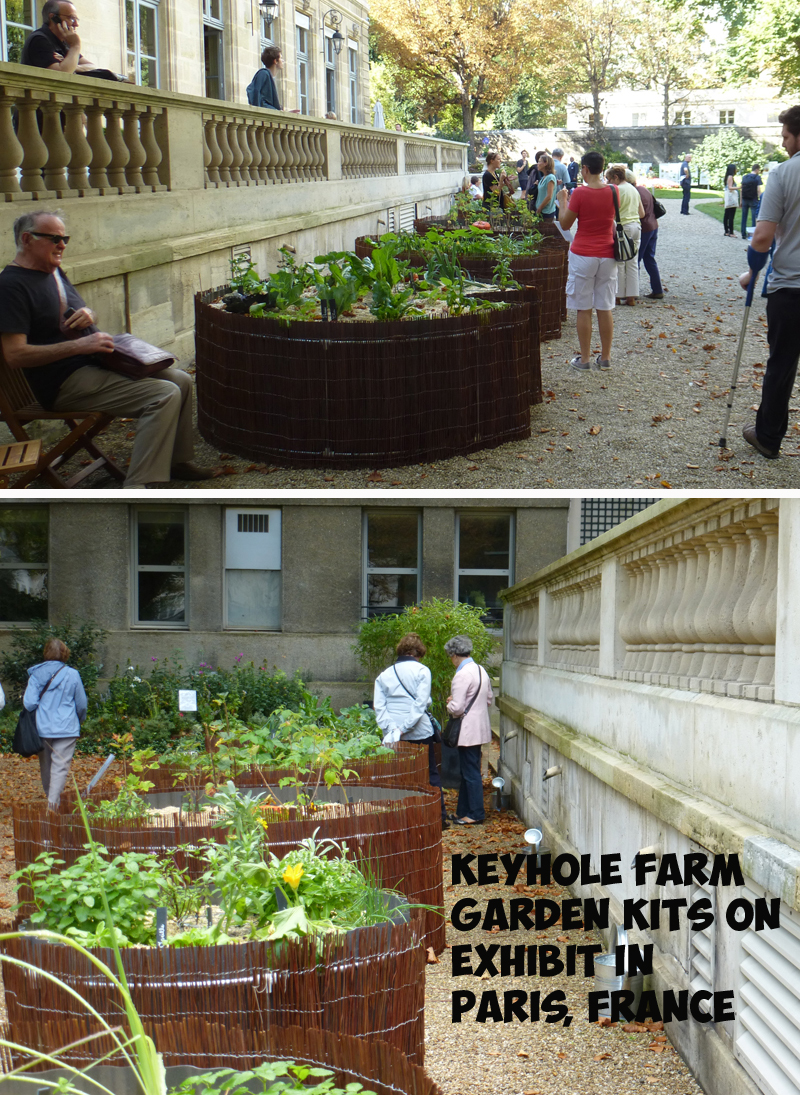 This update contains a variety of subjects, listed as "Exhibits, Schools, and Deer."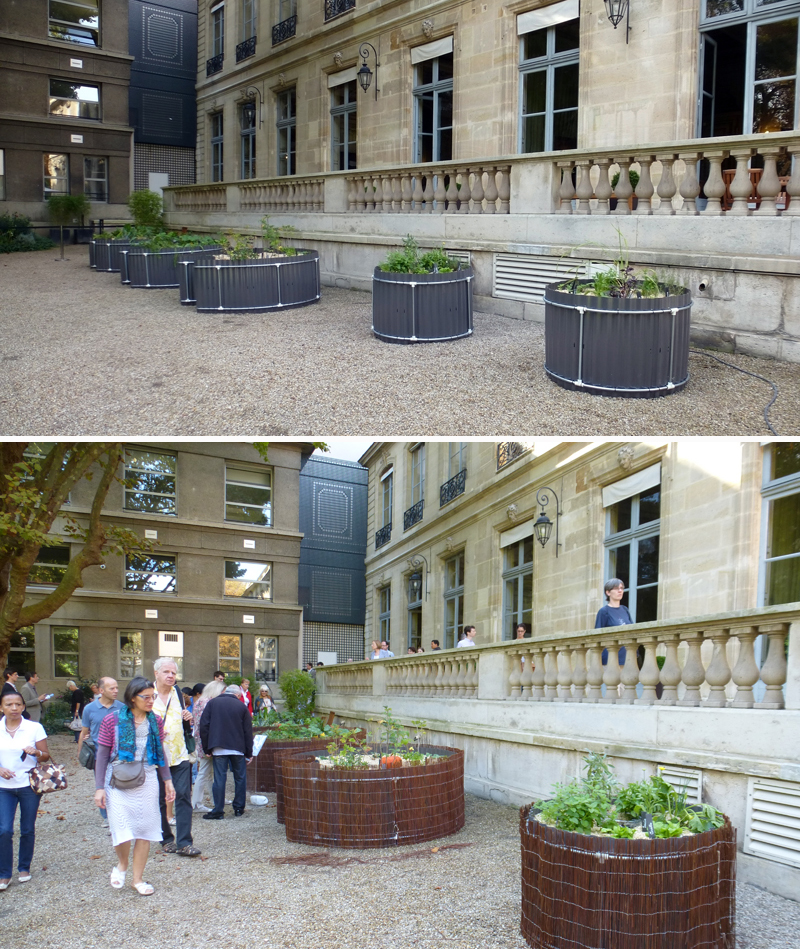 To begin, the weekend of Sept. 20 and 21 saw Keyhole Farm garden kits exhibited in Paris, France at a massive Heritage Days event. We had received an e-mail from Agathe Le Mire, a French landscape architect associated with Laure Planchais Landscape Architecture, one of the major firms in that country, seeking three kits to be featured in Paris for European Heritage Days.
We corresponded with Ms. Planchais several times in the days that followed and ultimately we shipped three regular keyhole garden kits and two mini kitchen garden kits to the French government's minister of ecology, sustainable development, and energy.
Ms. Planchais took several photos of the featured display during the event, included in this post, and said, "Everybody loves your gardens here even with the industrial look. Some pictures show Agathe my assistant who explained the keyhole garden system."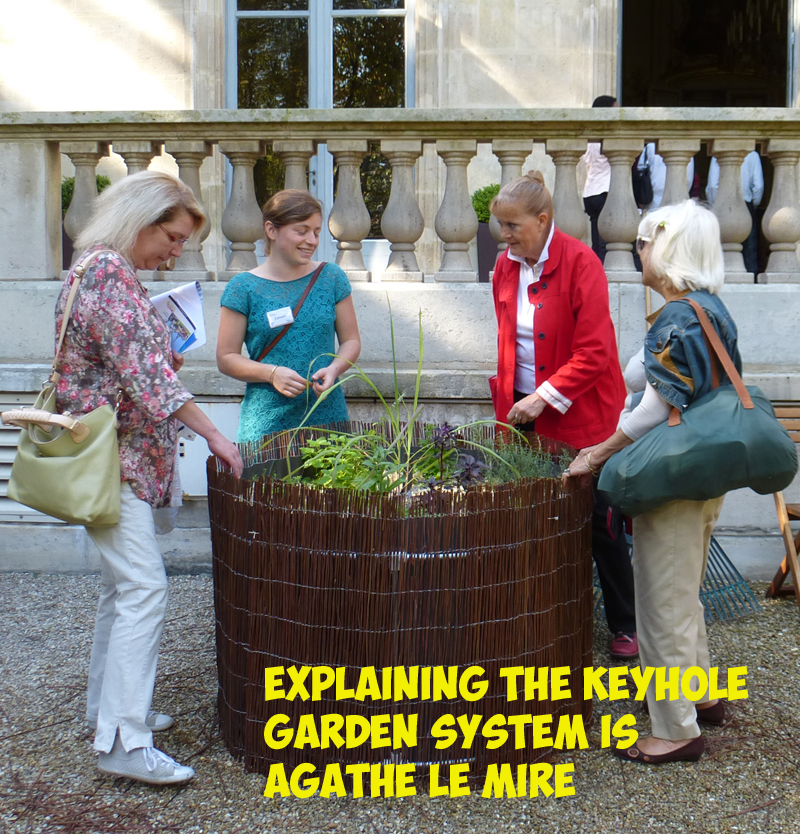 Please note that, to make the gardens match the event decor, a reed or bamboo drape was placed around the gardens.
In our correspondence, Ms. Planchais explained that Madame Segolène Royal, the French Minister of Ecology, Sustainable Development and Energy, wants to develop a pedagogical project with handicapped children to discover agriculture and nature in the garden of the ministry building in Paris after the exhibition. Additional photos of Keyhole Farm gardens at France's Heritage Days appear at the bottom of this post.
Ken Mitchell of Brown City, Michigan featured a keyhole garden he purchased from us as an exhibit at the Eastern Michigan State Fair during the later summer. Mitchell is vice president of the Lapeer County Master Garden Association. In his display, he substituted a worm tube in place of the traditional internal basket. He reported that the Keyhole Farm kit generated a lot of interest.
 SCHOOLS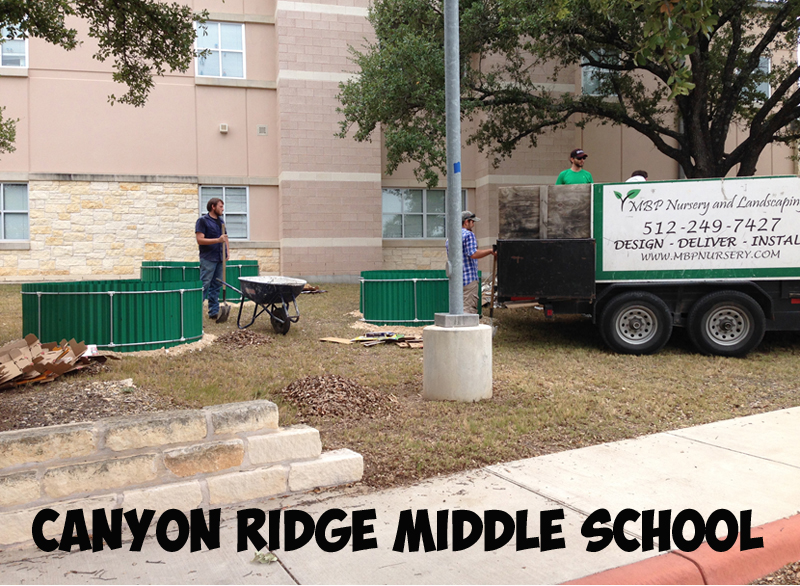 Several schools throughout the United States have purchased keyhole garden kits to be used in an academic setting to teach youngsters the many advantages of raising crops. A couple of the schools recently sent some photos of their gardens being set up, so they are featured here.
 The first is from Canyon Ridge Middle School in Austin, where three kits were installed recently, and the second photo is from La Vernia Primary School in South Texas which installed three kits.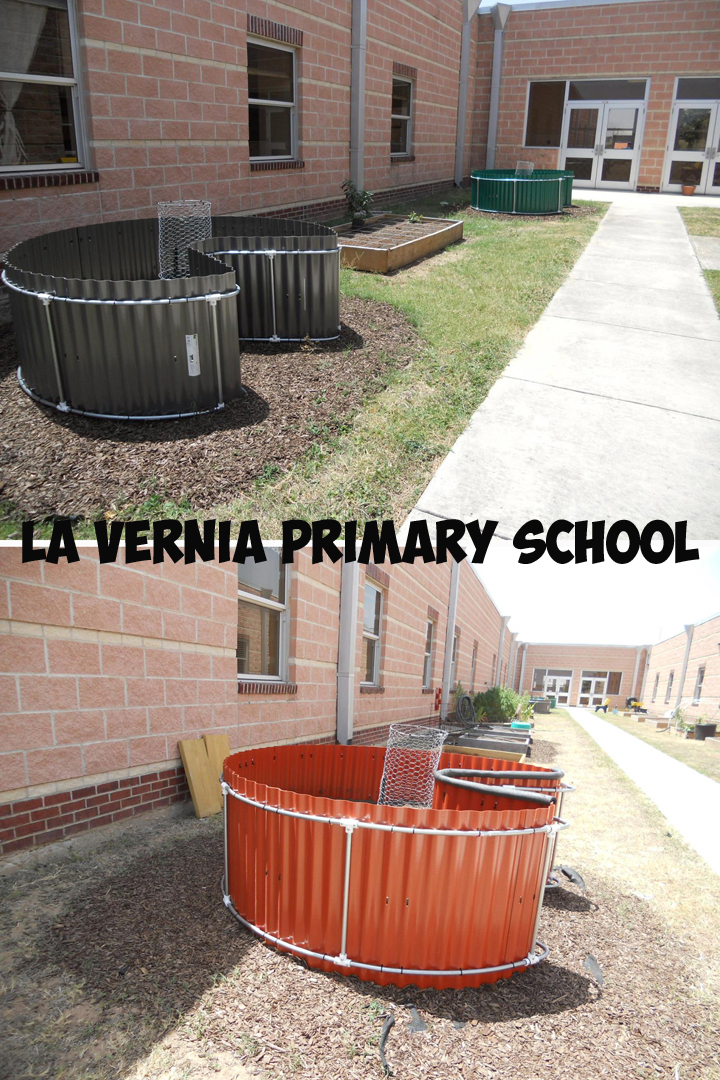 Interestingly, Iris Seale, a retired kinder teacher at La Vernia and a Master Gardener decided to make the long drive to our experiment station in Clifton to purchase two additional units recently. She lives next door to the dairy where the historic Deaf Smith Oak is located. Coincidentally, Erastus (Deaf) Smith is my great-great-great-great uncle (his older brother, the Rev. Abner Smith, was my great-great-great-great grandfather – noted for starting numerous churches in Texas in the early 1800s).
Deaf Smith was Gen. Sam Houston's most trusted scout and spy and played a key role in Texas Independence. Anyway, Ms. Seale brought with her and presented to me a sapling grown from an acorn from the daughter of the Deaf Smith Oak (which for several years has not been producing acorns due to drought stress).  The oak stands alone in a cultivated field about three miles north of La Vernia and is considered a Famous Tree of Texas. In the photo, Stephen Seale (right) is presenting the sapling to me (inset is of the Deaf Smith Oak).
 DEER INVASION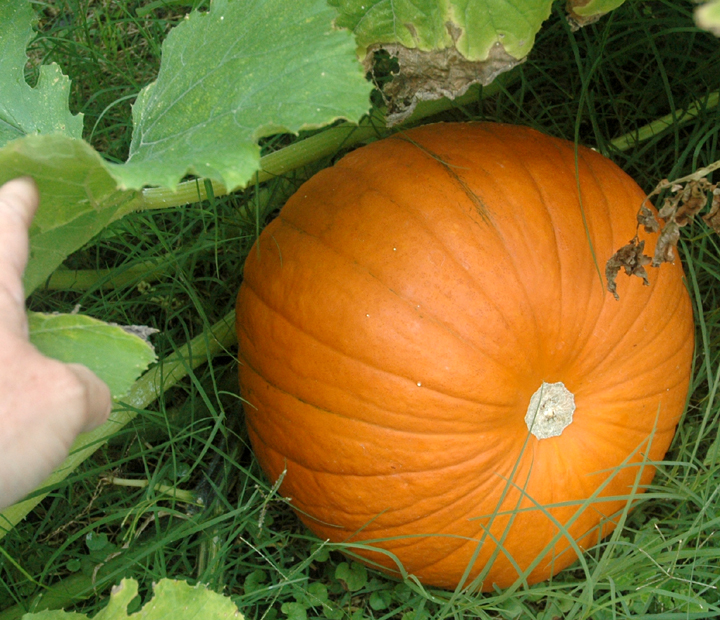 Our experiment station is located in a residential part of Clifton a few blocks from the edge of town. I have occasionally seen deer on the edge, but had never experienced them on my property – until this summer. Last year I dealt with a hungry opossum, but that's the only predatory animal that has invaded my gardens.
It started with a pumpkin. I grew several this year, but my prized one was larger than the rest and looked very healthy. It was just about ready to harvest. It had grown over the edge of the keyhole, onto the ground on the far side, basically out of easy sight. One morning while I was picking tomatoes I ventured to the area where the pumpkin was growing and noticed it was not there. I couldn't believe it. As I journeyed around to the front of the keyhole where the wedge is located, there it was on the ground a short distance from the keyhole, with about a fifth of it eaten out near the top. Now, this was a heavy pumpkin and would have taken muscles to drag.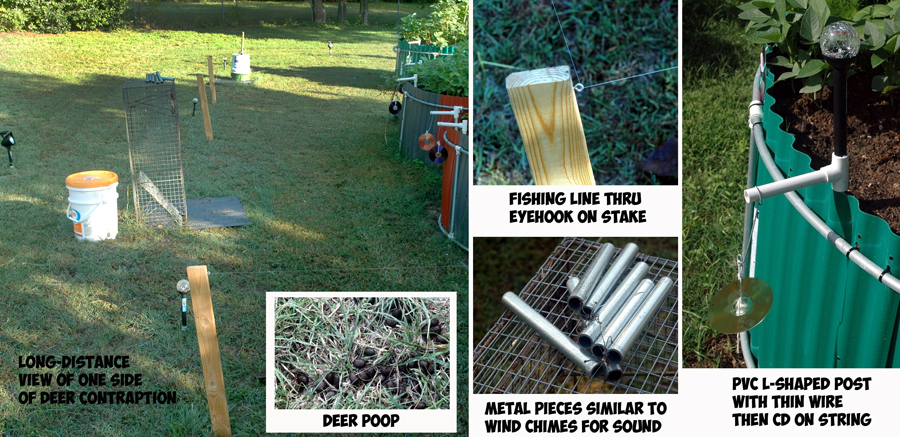 I assumed it must have been another opossum, perhaps a giant one, so I cut a small wedge from where the eaten-out part was and baited a live trap, placing it where the pumpkin lay, and lifted the heavy remainder of the heavy pumpkin into the top of the garden to get it off the ground, out of easy sight of the 'possum.
Next morning, I checked the trap – it had not been disturbed, nothing was caught. However, the blemished pumpkin I had placed up into the keyhole garden was gone. In disbelief, I scanned the area – no pumpkin, so as I broadened my search toward the perimeter there under a pecan tree in the distance was what looked like an orange bowl. It was all that was left of the pumpkin, just half a shell, so to speak. The insides were completely gone.
About that same time, my spouse Carole mentioned that some of the pears on the lower branches of our tree some distance from the keyholes were missing. Upon inspection, I noticed something on the ground nearby – deer poop. My daughter Caitlin and I got the ladder and picked the rest of the pears, since they were ready to harvest.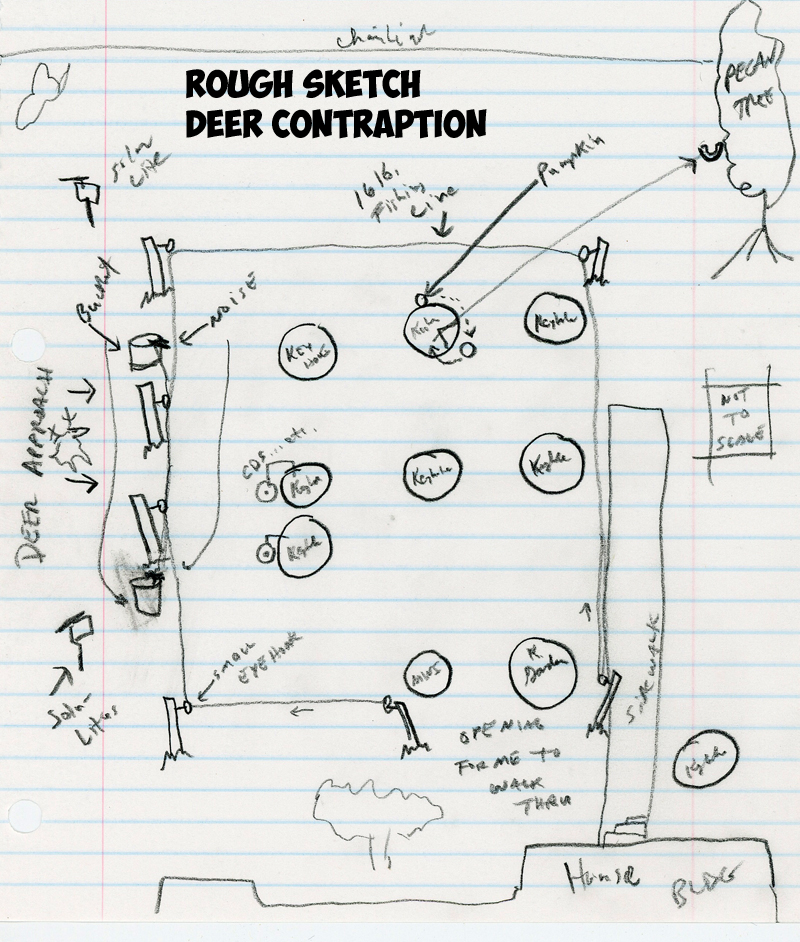 I had pulled from my gardens most of my squash plants and a few others that had exhausted their cycle and had planted a late-summer/fall crop of mainly black-eyed peas, okra, and pinto beans. These plants were growing nicely, very lush for summer, and I was looking forward to a superb crop. About two days later when I checked nine of the keyhole gardens in the morning, I noticed that something had stripped my plants, just leaving small stalks in the soil. Deer! There was deer poop all over the ground.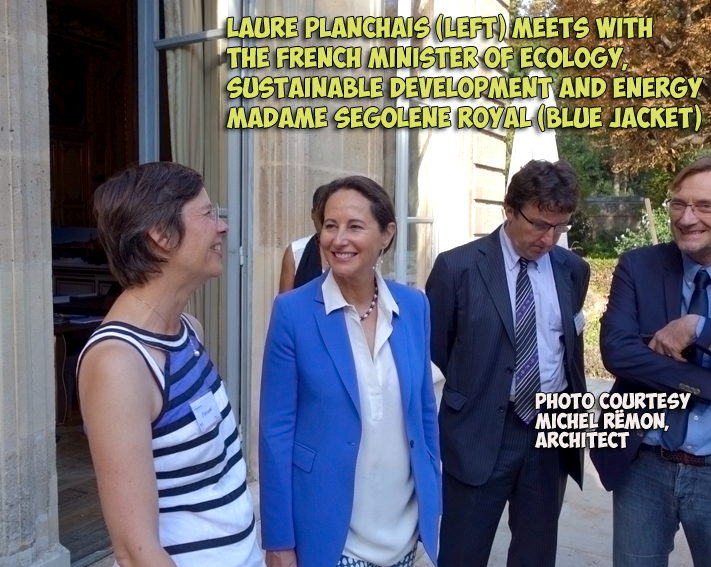 Later that week I finally had time to re-plant, which I did, but I knew I would likely be facing the attack of the deer population again. I checked websites and videos online to get an array of ideas. I wanted to find something that would be easy to erect and preferably utilize materials I already had.
 There were a variety of innovative fences that could be built. Several people suggested hanging bars of soap since deer think the smell is human and would shy away. One video showed stakes driven in the ground around a garden area, with fishing line attached and tin cans tied together at one end sitting on a bucket. When deer try to cross the fishing line it is tugged. The tin cans fall to the ground making noise which scares the deer away. I tried something similar to this. I also, based on another individual's suggestion, tied some old CD's to hang down freely in order to reflect light, also a supposed deterrent.
It has been four weeks, my plants are looking good again, and no deer. The fishing line contraption has been triggered about five times. Resetting it is easy, just picking up the noisy stuff and putting it back onto the upside down bucket while pulling the fishing line tight. I do know that deer have been back into the area (new poop), but so far they have ignored by keyhole gardens. This is hard to type since my fingers remain crossed.
Anyway, here are a few images of what my contraption consists of. I also have posted a very rough sketch. Good luck making out the hen scratching.
Here are some more photos from Heritage Days held at Paris, France.