T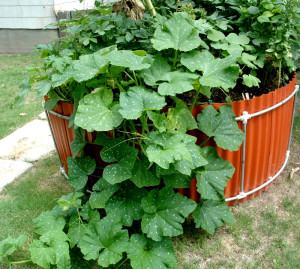 his is a fairly short update, but we wanted to mention that it is time to plant for fall. Please look at previous posts (listed at left) to learn what has been done so far this year.
I recently pulled up much of my lettuce and the very tall sunflower plants (only a few are left standing). Some grew to eight-feet tall. I consider them an excellent way to provide a little shade for the plants below them. I ripped off the giant leaves to put in the recycle basket, kept the stalks that might be stuck in the soil for plants to grow up on in the future, and harvested the head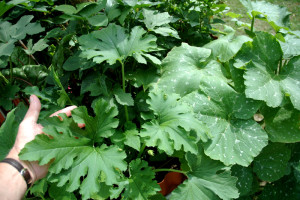 s that were filled with sunflower seeds.
I had mentioned in a previous post the battle I had with squash bugs this year during the spring, which caused me to harvest those plants early. When I transplanted in late May, new squash products have come up, minus any squash bugs so far and they are growing quite well. I wonder if the hotter weather has kept them under wraps or if they simply thought I was through with squash this year and went somewhere else. Sssh. Don't let them know what's up.
When my okra plants were about six inches tall, we were raided by a band of grasshoppers which chewed off the tops. Rather than pull them up I left them in the ground and they sprouted new leaves and are looking pretty good.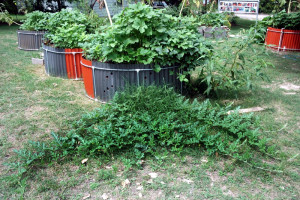 We are experimenting this year with a garden that has holes drilled in its side. Earlier, the squash bugs played a number on my pumpkins and strawberries coming out of these holes, but the watermelons vines are looking good. I expect I will be seeing watermelon crops any day now. I have a two gigantic tomato plants that are producing and my black-eyed peas are beginning their production cycle.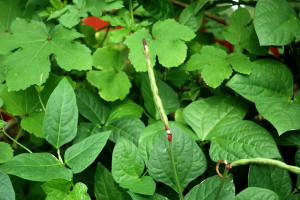 Attached to this post are a few random July photographs (taken on July 25) showing some of the plants.
Now is a great time to get into keyhole gardening, with fall planting just about upon us. You can plant different crops as the seasons change, pulling out those whose cycle have ended and planting something else in their stead, a year-round activity if you like. If you want to order a kit, just click on the menu item above or on the advertisement at the left. We are well into our fifth year with these kits and they have held up very well so far. Some of our previous posts provide tips on filling the gardens and planting.
I really enjoy the time I spend with my keyholes. It is relaxing and a challenge at the same time, and there is always something new that is learned about nature.