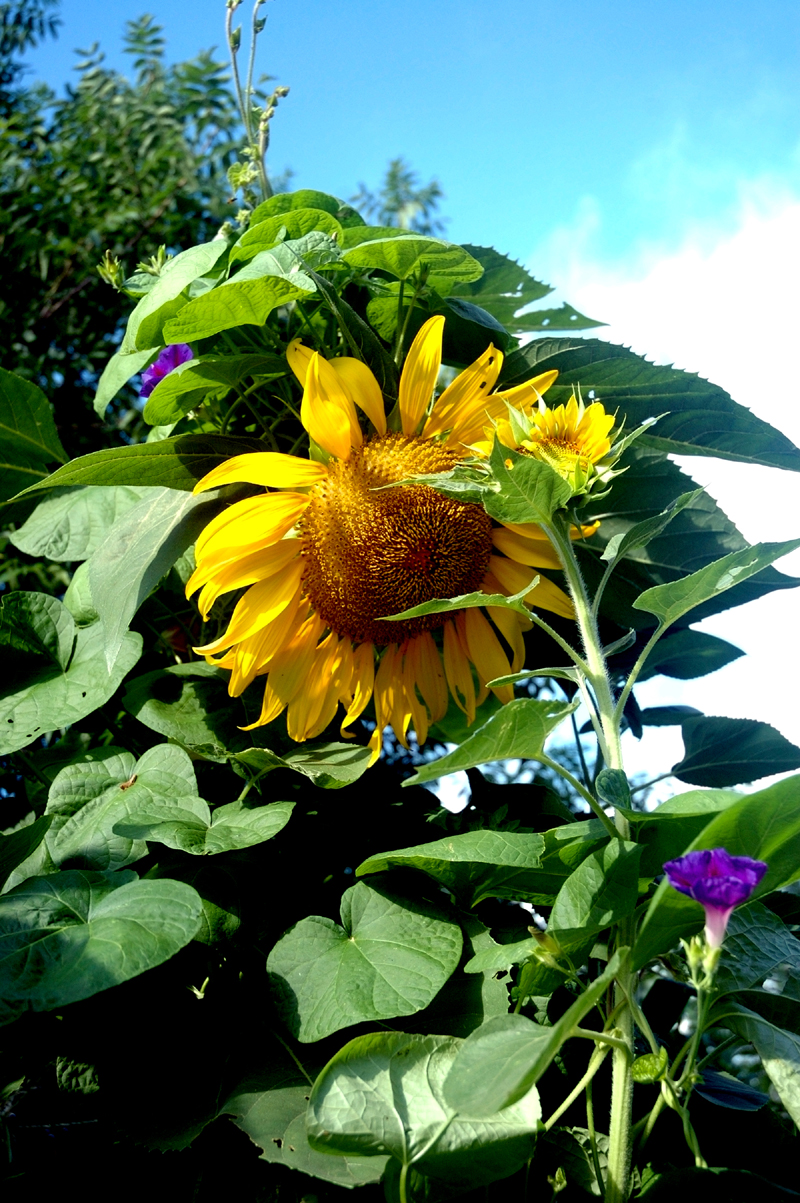 Most people who know me are aware that yellow is my favorite color, which is one reason I raise sunflowers in my keyhole gardens. I am very impressed with how wide the stalks are and how tall they grow, but when you add the fact that some shading is caused by the big  leaves during the days of  hot Texas heat and when the sunflower seeds attract birds it can be beneficial to their fighting raids by grasshoppers, the advantages grow.
Another big plus is that sunflowers attract bees, a very good thing, and sunflower seeds are quite tasty.
Anyway, they are blooming, and more are opening up every day, so I thought I would provide some photographs in this update which was penned on June 7.
On June 11, I posted, as an update to this update, a VIDEO entitled Sunflowers & Thunderstorm that can be watched. Click below to see it.
In the last update I mentioned that I was eager to pull up some squash and early pea plants and bury some black-eyed pea and okra seeds on their turf. On Monday, June 2, I took that plunge, pulling and planting, and three days later had black-eyed peas coming up (see photo somewhere on this page).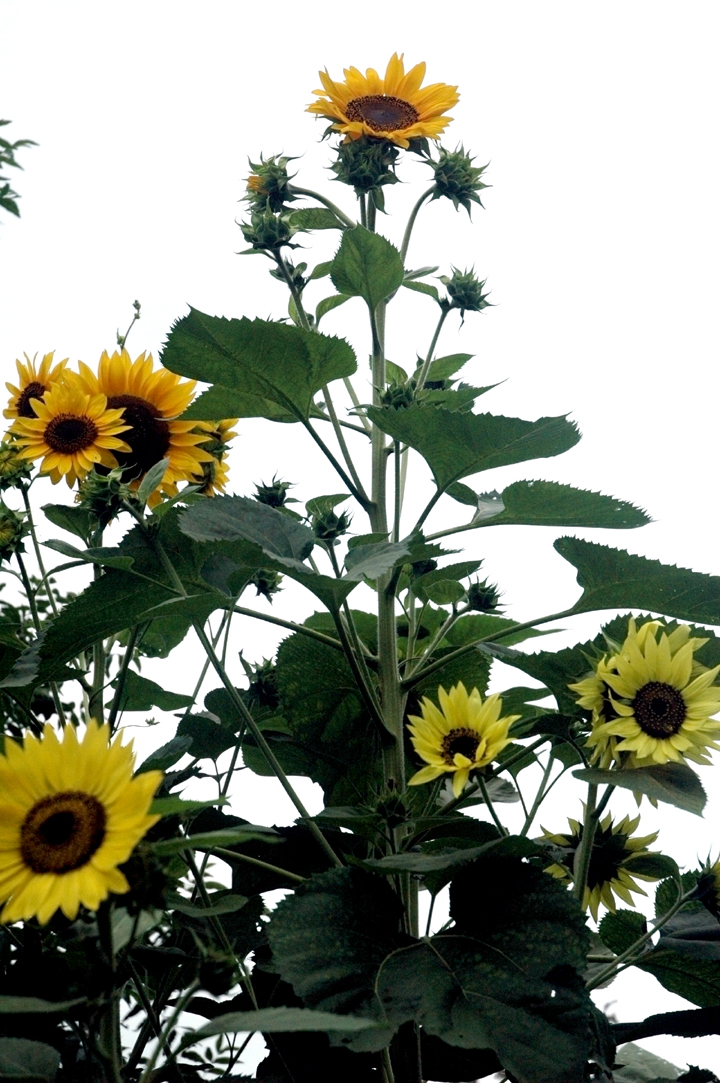 Most of the seeds were put into the ground by a friend who offered to help and had never planted a seed in his life. I said, "We'll see if you have a green thumb."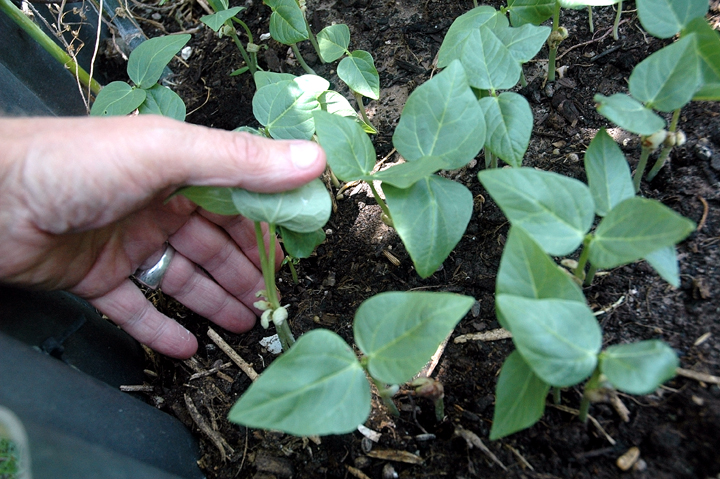 Three days later I texted him via cell phone, "You must be a martian with a green thumb. Some of your black-eyed pea seeds are already breaking the earth…in just three days." Several were already two inches tall!
Also on this update are photos of tomatoes, carrot plants, corn stalks, bell pepper, Swiss chard, pumpkins, gourds, watermelon vines, and a few other things. I am still harvesting a lot of lettuce, spinach, zucchini, and green beans, too. Just click on the small photo to enlarge, then click off of it to reduce the size back to display size.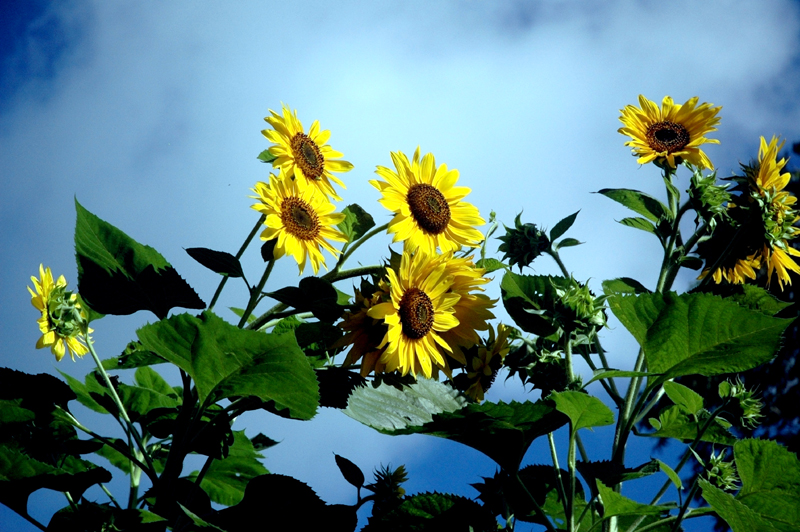 I had a conversation with a fellow landscaper the other day and our discussion turned to bees. He said that it's funny, but when a group of bees find a puddle of water and want to take a drink they tend to do so a couple at a time, while the other bees in their pack are swarming above. It's as though they are taking turns, with those flying above perhaps providing a lookout or simply waiting their turn.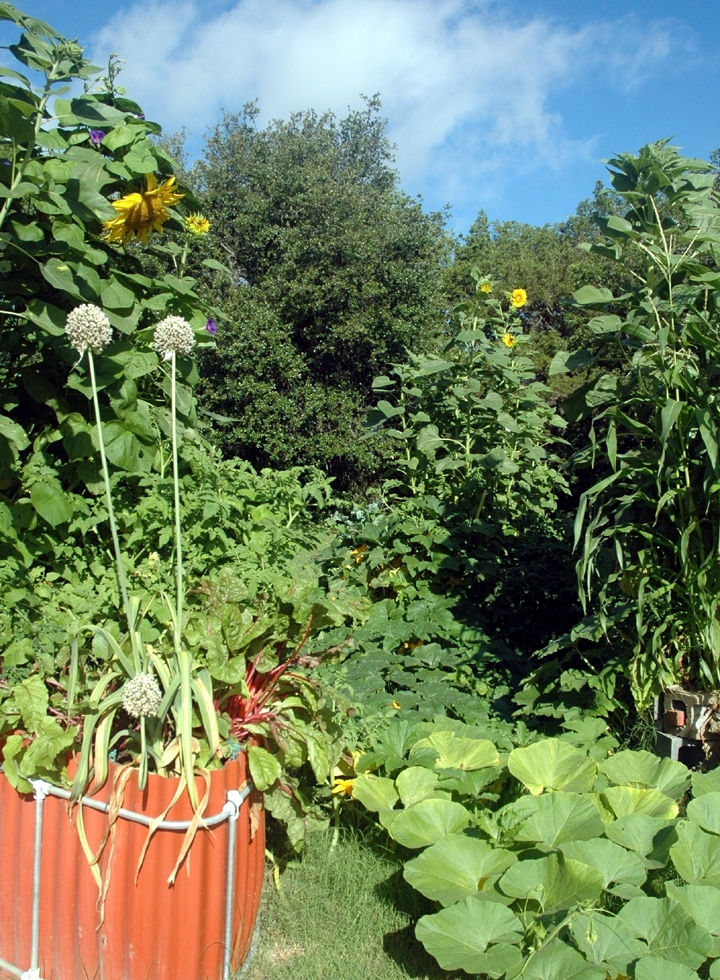 I still want someday to provide our keyhole gardens to people in third-world countries who find it difficult to survive because of lack of food. In many places, keyholes would likely be an excellent option, but I have also wondered if bees exist in these places or if they would have to be imported.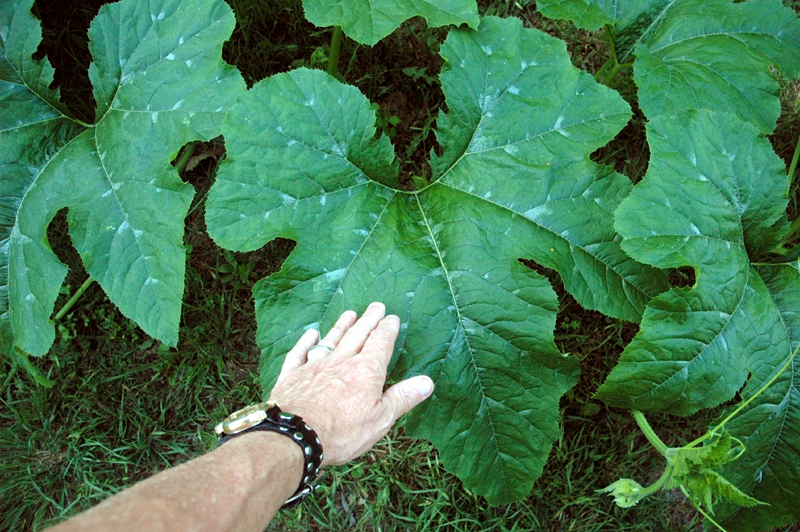 In my keyhole gardens, some of the leaves on the vines extending from the gardens are huge, making it somewhat like an obstacle course out there.
It is almost as though these vines are flowing like a river, dramatically so. When the wind is blowing they appear to be making waves.
They are at their most brilliant during the morning hours, with the leaves curved upward. By mid-afternoon these leaves curve downward due to the heat, then spring back up the next morning.
Also pictured are some distance shots of our keyholes. Please note that the plant growth is bigger than the raised-bed keyhole gardens themselves.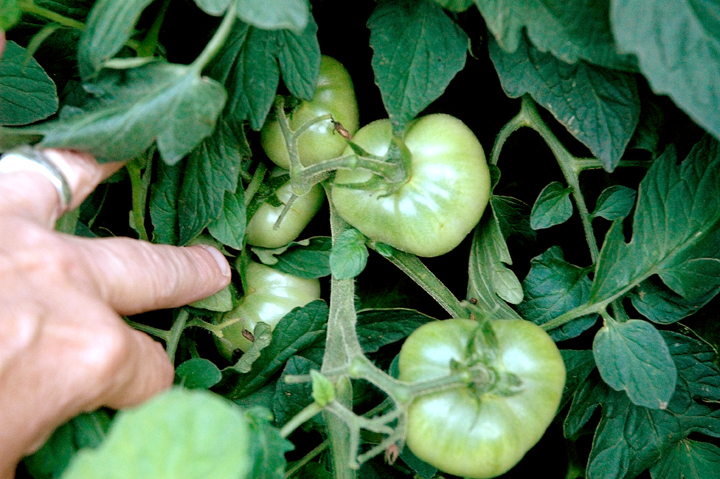 Because we plant things so close together (seeds about three inches apart), when you venture right up next to the gardens and spread the plants apart a little, it is almost like being in a forest, with greenery and crops abounding.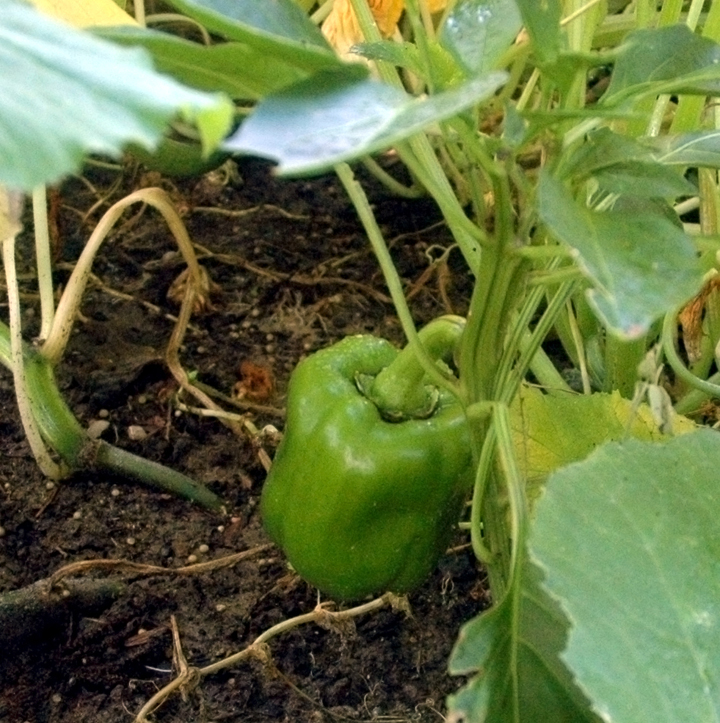 Because I like to grow "tall" plants, this adventurous trek is even more compelling.  It is very much like entering a forest….right in my own back yard. I expect the tallness to increase even more when the okra starts coming up.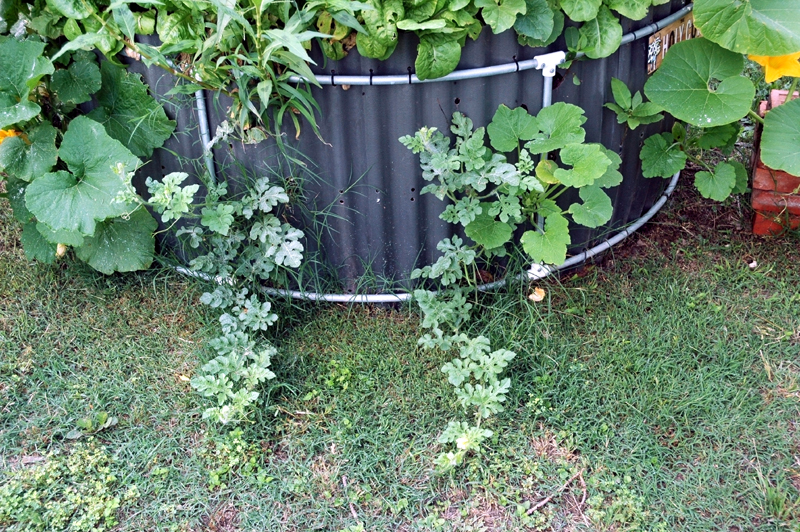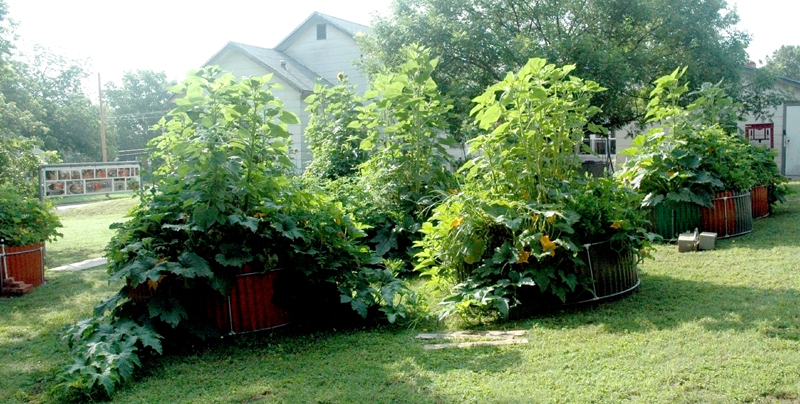 It's never too late to start keyhole gardening since crops can be raised year-round. It's a matter of picking plants according to the season and region. There are about a million variables that can come into play, so it really is an exciting adventure and an opportunity to experiment with new concepts while learning more and more about nature.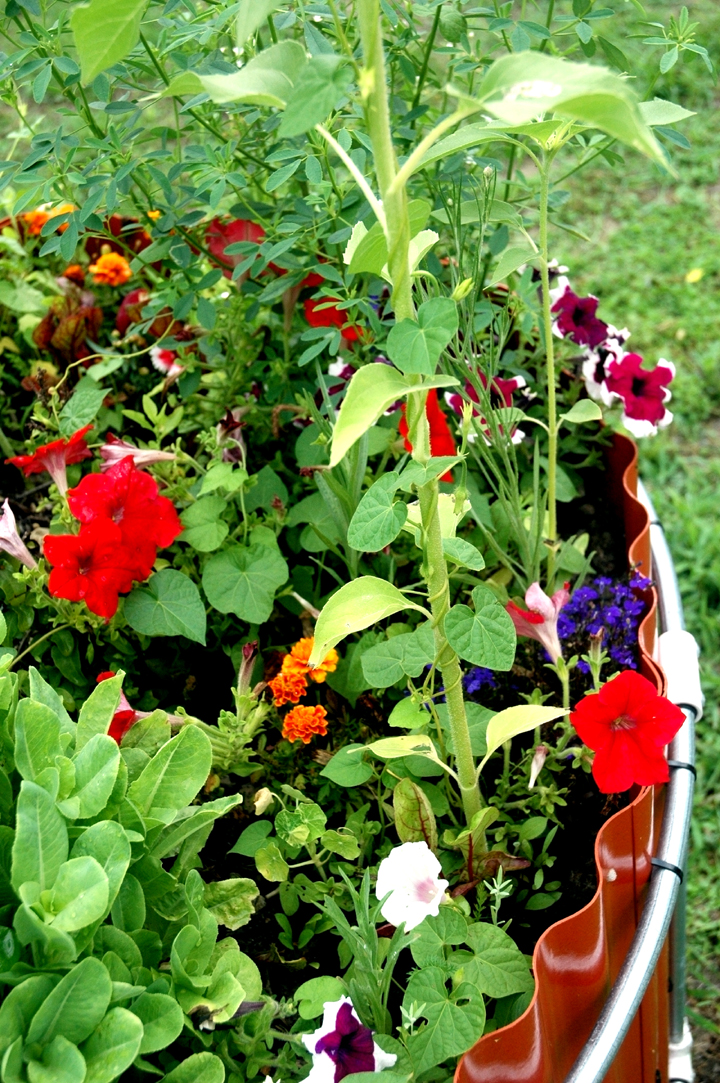 One of my mini-gardens, which I named Blossom, was dedicated to flower planting. There is a photo of it among these, too.
Primarily, however, this update is dedicated to those glorious sunflowers.